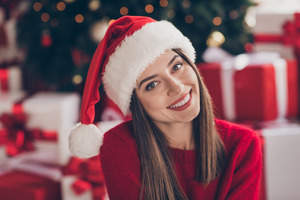 The holiday season is a time when many of us enjoy a number of fun events with our friends and loved ones. These special occasions often involve indulging in a variety of foods and beverages. Unfortunately, there are a lot of seasonal treats that could end up wreaking havoc on your oral health if you're not careful. To protect your smile throughout the holidays, keep these 5 useful tips in mind.
1. Be Diligent About Your Dental Routine
In the hustle and bustle of the holidays, it can be all too easy to miss a brushing session. As such, you need to make a conscious effort to maintain your regular oral hygiene routine no matter how hectic your schedule is. Set reminders on your phone so that you don't forget to brush and floss before bed every night. You might also consider carrying a dental kit in your purse or pocket so that you can clean your teeth no matter where you are.
2. Be Extra Careful Around Candy Canes
There are plenty of sugary treats that you should be cautious around during the holiday season, but candy canes are a particularly serious threat to your grin. Not only are they high in sugar and can significantly increase your risk of tooth decay, but they are also very hard; if you try to bite down on them, you could easily end up chipping or cracking your enamel. Only enjoy candy canes in moderation, and avoid chewing them as you do so.
3. Focus on Healthier Foods
It may be tempting to overindulge in hot chocolate, cookies, and other sugary foods and beverages that are closely associated with the holidays. A sweet snack every so often is fine, but for the most part, you should make sure that your diet largely consists of more tooth-friendly options such as fruit, vegetables, and cheeses.
4. Start Chewing Sugarless Gum
Sugarless gum can satisfy your sweet tooth, and it can also give your oral health a boost. When you chew on gum, your mouth produces more saliva than usual. This helps flush out any food debris that might be left on your teeth and gums after a meal, thus making it easier to maintain a clean smile throughout the day.
5. Drink Plenty of Water
One of the most basic things you can do to protect your smile no matter the time of year is to drink plenty of water. Not only does it help restore the pH balance in your mouth, but it rinses away potentially harmful food particles. You should take the time to enjoy a glass of water immediately after you eat anything high in sugar.
As long as you're proactive about taking proper care of your teeth, you should be able to get through the holiday season without any dental emergencies. You can simply enjoy your time with the people who matter most in your life while continuing to enjoy a healthy, beautiful smile!
About the Author
Dr. Walter K. Kulick has spent over four decades helping his patients enjoy better lives thanks to high-quality dental care. He earned his dental doctorate at the University of Pennsylvania, and he has advanced training in a variety of topics related to dentistry. At Kulick Dental Group in Coral Springs, he works with other oral health experts to bring his patients truly comprehensive care. To schedule a holiday consultation with Dr. Kulick, visit his website or call (954) 341-0500.