Restorative Dentistry – Coral Springs, FL
Restoring Your Smile's Health without Drawing Attention to Damage
Tooth decay, infection and injury can all interfere with your smile's health, and these problems don't repair themselves without a little intervention. When it happens to you, don't wait to get restorative dental care. Modern materials and all-white restorations offered at Kulick Dental Group allow your trusted dentists to return your mouth back to its healthy, beautiful state.
Why Choose Kulick Dental Group for Restorative Dentistry?
Durable, Biocompatible Cavity Fillings
Customized, Natural-Looking Dental Crowns
In-House
Dental Laboratory
Tooth-Colored Fillings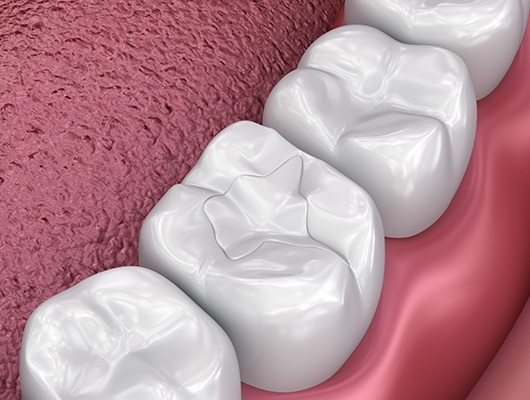 You shouldn't have to worry about blemishing your smile with silver fillings when you've experienced tooth decay. We can restore your teeth from cavities with tooth-colored fillings. A natural-looking, healthy, and beautiful solution, fillings made of composite resin offer a number of advantages compared to the traditional silver, or amalgam, solution.
Some benefits of tooth-colored fillings compared to silver include the following:
Composite resin is carefully blended to match your natural teeth perfectly
The bond between the tooth and composite resin supports the remaining tooth structure, preventing breakage in the surrounding tooth
Composite fillings require less tooth preparation in advance, meaning more of your natural tooth structure stays intact
Tooth-colored fillings can be expected to last as long as silver fillings
Once your tooth has been restored with a composite filling, you'll need to maintain excellent oral hygiene to keep your tooth healthy. Some patients experience sensitivity following the placement of composite resin fillings, but this is usually minor and temporary.
Dental Crowns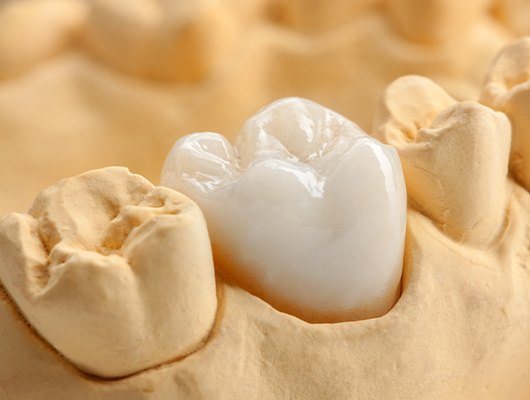 When repairing dental decay or damage requires more than a simple filling, a dental crown is an excellent solution. Also called a cap, this device is a thin, tooth-shaped covering made of either precious metal, porcelain fused to metal or all-porcelain. The crown fits securely around the damaged tooth to restore or enhance its form and function.
Dental crowns can be used to correct a number of issues in the front and back teeth, including cracked, broken, decayed, or worn teeth. The material your crown is made out of will depend on your unique needs, but it can be expertly crafted to blend well with the rest of your teeth.
The procedure for a dental crown is usually completed over a couple of visits to Kulick Dental Group, during which we'll design, fit, and place your restoration with expert care. Once the treatment is complete, you should continue to maintain excellent oral hygiene habits by brushing for two minutes, twice a day and flossing daily. Make sure you're fully removing food particles from the base of your new crown to prevent decay.
Learn More About Dental Crowns
Dental Bridges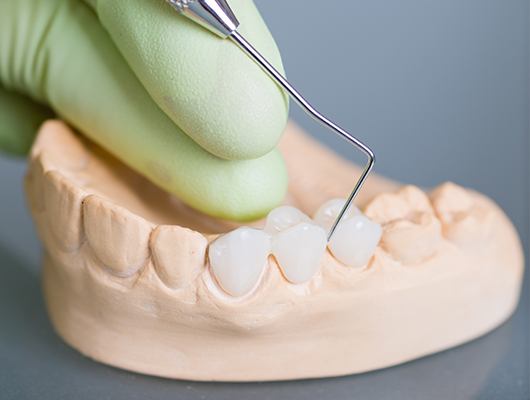 Are you missing one or more teeth that make it difficult to do basic tasks like chew your food and speak without a lisp? We offer custom-tailored dental bridges to help restore your smile and keep your teeth aligned. These prosthetics contain two dental crowns that are fused to either side of one or more free-standing replacement teeth. The crowns are attached to your natural teeth to anchor your restoration in place and complete your grin. With the proper maintenance, they can last for over a decade!
Learn More About Dental Bridges
Dentures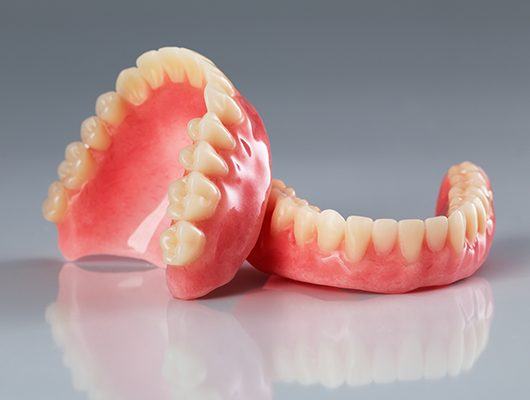 Removable dentures can be a wonderful way to replace several teeth or a whole row of missing teeth. Dentures are prosthetic teeth attached to a gum-colored base, and they can be supported by dental implants, suction, or adhesive. Dentures may be full or partial, depending on the amount of tooth loss.
When not supported by dental implants, full dentures can be secured in the mouth with suction or by using an over-the-counter denture adhesive for extra stability. A partial denture fits securely between the existing teeth like a missing puzzle piece. Designed by our expert dentists Dr. Kulick, Dr. Ghodsi or Dr. Idnani, your denture will fit well and is sure to blend flawlessly with the rest of your smile. Our in-office lab allows us to control the size, shape and color of your dentures to give you the attractive, stable smile of your dreams. And with wax-up models, we can show you what your dentures will look like in advance, keeping you completely informed throughout the whole process.
The best option for securing your new tooth replacement is with dental implants. Implant-supported dentures are more stable than those secured with suction or denture adhesive, and dental implants also increase oral and overall health by keeping the jawbone healthy and whole.
Learn More About Dentures & Partials
Dental Implants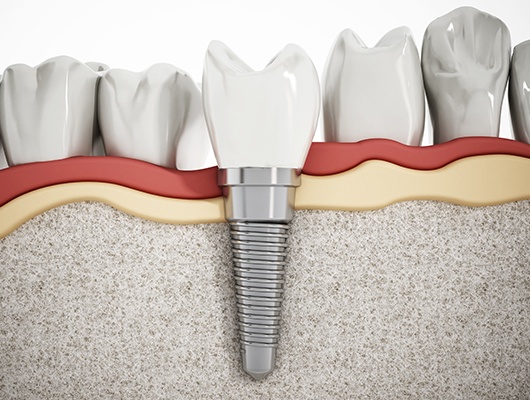 Dental implants are an advanced tooth replacement solution that offers a variety of unique benefits that make them popular among patients. The implants themselves are biocompatible, titanium posts that are able to restore the root structure of your missing tooth or teeth, providing a stable and strong foundation for your dental crown, denture, or bridge to be attached to. Due to the fact that they stimulate your jawbone, you won't have to worry about bone deterioration or sagging, hollow, or drooping cheeks.
Learn More About Dental Implants
Benefits of Early Treatment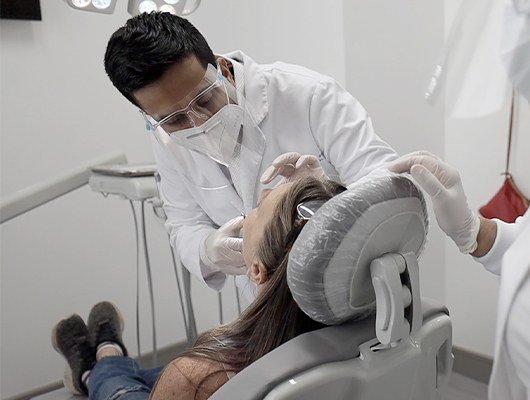 With composite resin fillings and natural-looking crowns, we can repair decay without marring the appearance of your smile. And when the natural teeth cannot be saved, we can replace them with beautiful bridges, partials or dentures. No matter the solution, know that your smile is in wonderful hands.
Seeking early treatment for dental problems is the key to preventing the need for more invasive, involved care later on. Cavities and dental wear won't get better naturally, after all. Postponing restorative care is never a good idea, and in the worst cases makes tooth extractions necessary -- so don't wait to contact our office when you know your smile needs help. Patients in Coral Springs, Parkland, Coconut Creek, Margate, Tamarac and Deerfield Beach can find the quality solution they seek at Kulick Dental Group.
Full-Mouth Reconstruction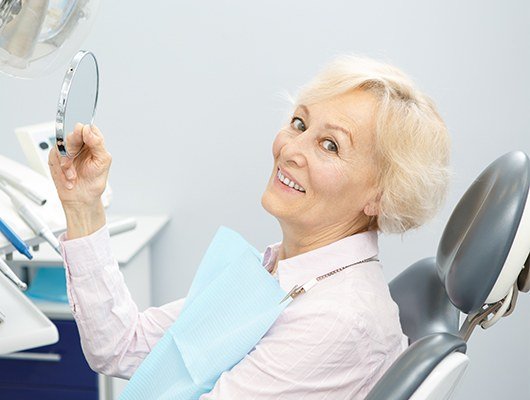 Sometimes more than one treatment is needed to restore your smile back to its full health and beauty. When that's the case, Dr. Kulick, Dr. Ghodsi or Dr. Idnani may recommend a full-mouth reconstruction to get you smiling your best once again. This comprehensive solution allows us to take a multi-faceted approach with a variety of treatments and procedures.
A full-mouth reconstruction goes beyond a general cleaning and a few fillings. In fact, this option considers all aspects of dentistry to reveal your very best teeth. Your unique treatment plan could include a simple general dentistry treatment along with a replacement procedure like dentures, or a cosmetic transformation like teeth whitening combined.
To determine what treatments you will benefit from the most, your dentist will examine your teeth and soft tissues, take X-rays, impressions, and photos and also discuss your smile goals and overall desires. Once we have a clear picture of what would serve you best, we can begin putting together your unique treatment plan. Whatever your reconstruction includes, it'll be customized to reveal your most beautiful smile.
Inlays and Onlays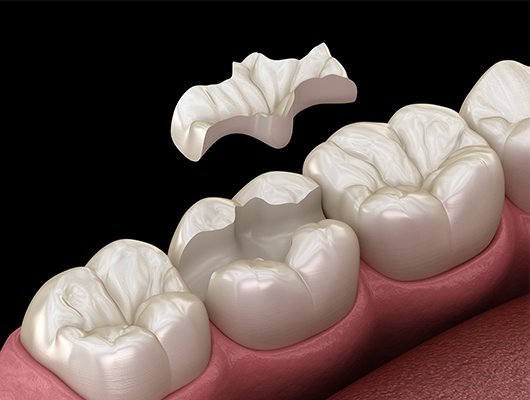 When you've got an old filling that needs to be replaced or removed, we can do so without having to put on a full crown. How? With an inlay or onlay. This conservative solution is similar to a filling, but it's a device that's milled in advance, rather than on the tooth. An inlay works by fitting into the cusps, or top edges, of a tooth, while the more extensive onlay extends over the cusps. The main advantage of an inlay or onlay is that it's a more conservative treatment that allows you to retain more of your natural tooth structure.
If your dentist determines that an inlay or onlay is the right solution for your smile, you can expect the treatment to be completed over two appointments. The first visit involves preparation of the tooth (removing the decay and old filling), taking an impression and fitting you with a temporary replacement to wear until your inlay or onlay is complete. Once we've received your device from our trusted lab, you'll come back to the practice for the final placement of your new inlay or onlay. Your dentist will remove the temporary and check its replacement for a proper fit before permanently bonding it into place. After a quick polish and thorough check for any last-minute adjustments, your treatment is finished -- and you've got a healthier smile that can last for years with proper care!