Dentures and Partials – Coral Springs, FL
Restore Your Smile and Your Confidence with Dentures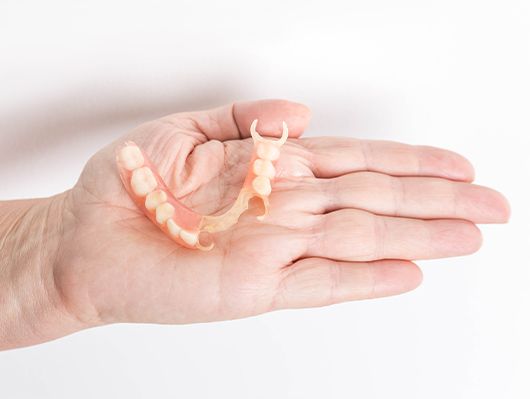 Is your smile less than attractive because of missing teeth? Tooth loss can lead to a number of problems. For example, you may not be able to speak as clearly, and eating might be more difficult. Also, your self-confidence could suffer simply because you know people see the gap in your smile. Fortunately, you can have a full, healthy smile again with restorative care. At Coral Springs Dentistry, we offer partial dentures and full dentures to help patients like you restore what you've lost.
What Is A Partial Denture?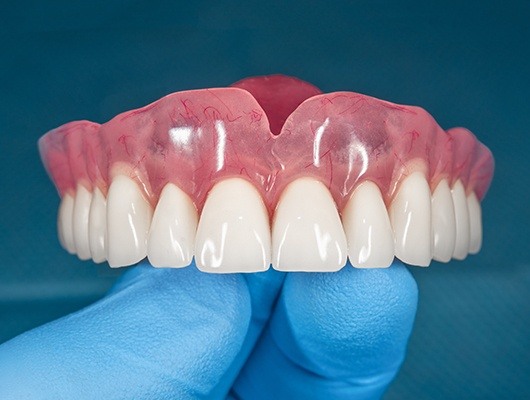 If you are missing one tooth or a few teeth in a row, then a partial denture that is either removable or fixed can be designed for your unique situation.
A removable denture is made of false teeth that are attached to a metal frame. We take molded impressions of your mouth to ensure that the false teeth fit comfortably between your own and do not interfere with opposing teeth when you bite. Clips that attach to teeth adjacent to the gap in your smile hold a partial in place.
A fixed partial, also called a bridge, is an oral device that is mounted over healthy teeth or dental implants. A bridge is made up of two dental crowns that are placed over abutment teeth—one healthy tooth on each side of the gap—and the false teeth that span the gap in your smile. Once a fixed partial is bonded to abutment teeth, you have a permanent solution to tooth loss.
What Is A Full Denture?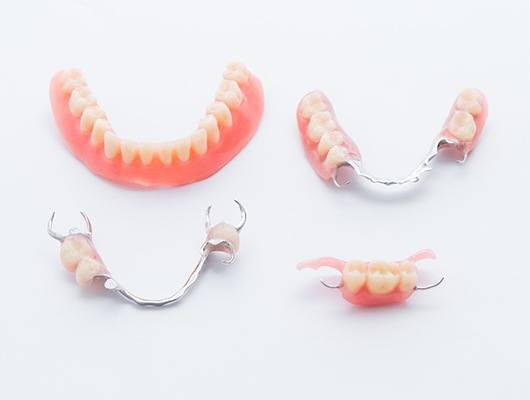 Full dentures are for patients that are missing all of the teeth along the top or bottom arch. This prosthetic is made of false teeth set on an acrylic base that is colored to look like natural gum tissue.
If the teeth along your upper ridge are gone, then a denture with an open palate may be preferable in order to give you greater comfort and a better sense of taste. Rest assured, however, your dentures will always fit comfortably and securely without irritating your gums.
For even greater confidence when you eat and talk, ask about implant-retained dentures. These are attached to small implanted posts that are surgically embedded in your jawbone. They are typically more secure and permanent than traditional dentures.
The Benefits of Dentures and Partials
For most people, the greatest benefit is smiling back at them in the mirror. However, there are other important considerations. First, teeth replacement is important to your oral health. Just one missing tooth increases the risk of decay in other teeth as well as gum disease.
In addition, tooth loss sometimes leads to malnutrition if a patient is not able to chew a variety of healthy foods including fresh fruits and vegetables.
For these reasons and more, consider dentures or a partial to restore your missing teeth. The dentists at Coral Springs Dentistry are ready to help!
Dentures FAQs
Full and partial dentures in Coral Springs are great ways to restore your smile and confidence after tooth loss. Whether you're missing just a few pearly whites or a whole mouthful, there's a solution for you. To help make the process of replacing your missing teeth a little bit easier, we've answered some frequently asked questions about dentures in the section below.
How Much Will It Cost to Get Dentures?
The price of dentures can vary greatly from patient to patient. Some of the factors that influence your cost are:
The number of teeth you're replacing
Whether you secure your dentures with dental implants
Whether you'll need any preparatory work such as gum disease therapy or tooth extractions
Your level of insurance coverage
At Coral Springs Dentistry, we work with a long list of dental insurance providers. If you don't have insurance or need help paying for your new teeth, we can help you apply for a low-interest loan through CareCredit.
Do I Still Need to See My Dentist for Checkups If I Have Dentures?
Even if you have no natural pearly whites remaining, you should still see your dentist in Coral Springs at least twice a year for a checkup. We can make sure you don't have any issues like gum disease, and evaluate any natural teeth you have left. We can also examine your dentures to determine when they'll need to be repaired or replaced.
Can I Sleep in My Dentures?
Yes, you can wear your dentures at night, but it's ideal to remove them before bed. Taking your dentures out will give your gums and jawbone a few hours to recover from the pressure of wearing the dentures all day. It's also the perfect cleaning opportunity. Before you go to bed, let your dentures soak in either denture cleanser or room temperature water. Soaking them in hot water or letting them dry out at night could cause them to change shape and lose their comfortable fit.
How Do I Clean My Dentures?
Aside from soaking them overnight, it helps to scrub them with a special denture brush at least once a day. This prevents plaque from building up and causing oral infections. Instead of toothpaste, use a dishwashing liquid. Toothpaste contains chemicals that might be abrasive to your replacement teeth.
Additionally, you can prevent bacterial buildup by rinsing your dentures after eating and before putting them back into your mouth.
How Do I Eat While Wearing Dentures?
It can take several weeks to get used to eating with dentures. Try eating small bites of soft food at first, and gradually work your way up to larger bite sizes and heartier foods. Remember to apply even chewing pressure with both sides of your mouth so the dentures don't become dislodged. Applying a small amount of denture adhesive before eating can also help stabilize them.