Dental Crowns – Coral Springs, FL
A Solution You Can Trust for Damaged Teeth
Even people who are diligent about brushing and flossing may find that one of their teeth has suffered serious damage. There are several reasons why that may happen including poor oral hygiene, trauma while playing sports, or even accidental falls. Fortunately, our team is ready to help! We offer high-quality, durable, custom-made dental crowns in Coral Springs as a solution you can trust for damaged teeth. If you'd like to learn more about this restorative dentistry option, continue reading or call our office to speak directly with a Kulick Dental Group team member!
Why Choose Kulick Dental Group For Dental Crowns?
Experienced Team Of Five Dentists
Three Options For Dental Crown Material
Insurance Welcome And Financing Available
What Is a Dental Crown?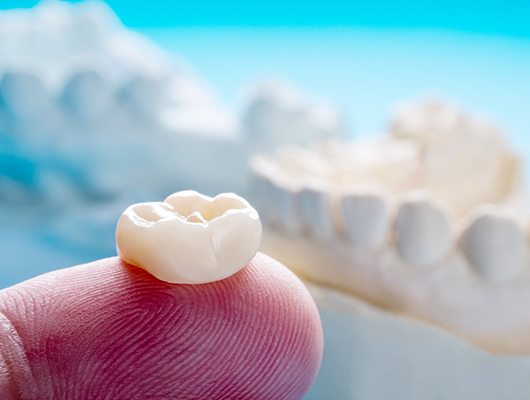 A dental crown is a custom, tooth-shaped "cap" placed over the entire visible portion of a tooth. Its purpose is to strengthen the tooth, renewing its form and function. Crowns can be made of either precious metal, porcelain fused to metal, or all-porcelain. Our team often recommends porcelain crowns due to their beautiful appearance.
There is an array of potential reasons you might need a dental crown, such as protecting a weak tooth from breaking, restoring a broken tooth, holding a dental bridge in place, covering a dental implant, shielding a tooth that's been treated with a root canal, and covering a tooth that is misshapen or discolored.
The Process of Getting a Dental Crown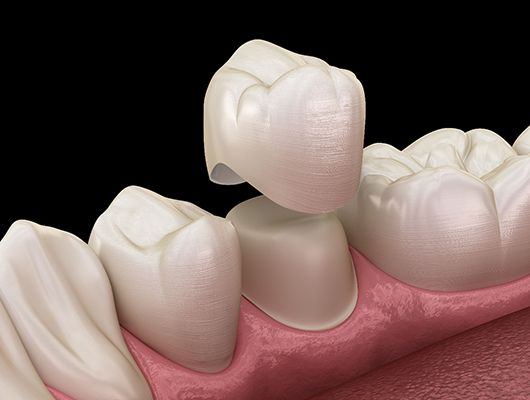 Getting a dental crown usually requires two appointments. During your first appointment, our dentists will prepare the tooth by removing a portion of its enamel. It's a crucial step to ensure the crown will not interfere with your bite or look unnatural in your mouth. Once that's done, we will take some impressions which will serve as the basis for designing your restoration.
To protect your prepared tooth, you'll wear a temporary crown while a dental laboratory creates your permanent one. When it is ready, you'll return to our office for the final step in the process. After we double-check the crown's fit and appearance, we'll use a strong dental cement to secure it onto your tooth. Your dentist in Coral Springs will thoroughly explain how to take proper care of your restoration so you can enjoy it for years to come!
The Benefits of Getting a Dental Crown
Improved oral function. By protecting damaged teeth, crowns can make it easier for you to eat a wide variety of foods.
Natural-looking results. An all-porcelain crown can look incredibly similar to natural teeth.
Preserve damaged teeth. In many cases, a crown can play a role in preserving a tooth that would otherwise need extraction.
Efficient treatment. The process of designing and placing a crown usually requires just two dental appointments.
Long lifespan. By practicing good oral hygiene and committing to biannual checkups and cleanings, you can help your dental crown last 10-15 years.