Cosmetic Dentist – Coral Springs, FL
Get the Confidence-Boosting Smile You Deserve
You know that a brighter, more beautiful smile would make you feel more confident, but did you know that adults with attractive teeth are also perceived by their peers as being more outgoing and successful overall? That's right -- making small but noticeable changes to your smile's appearance can greatly improve your life in ways you've probably never considered. Good thing there's cosmetic dentistry to help you do just that!
The benefits of cosmetic dentistry performed by one of our expert dentists are numerous. Whether it's a simple teeth whitening treatment or something a little more involved, like porcelain veneers, we're sure we've got just the thing to reveal your most dazzling smile. Keep reading to learn about our wonderful aesthetic services.
Why Choose Kulick Dental Group for Cosmetic Dentistry?
High-Quality Dental Materials
Fast, Effective, & Safe Teeth Whitening
Stain-Resistant Porcelain Veneers
Veneers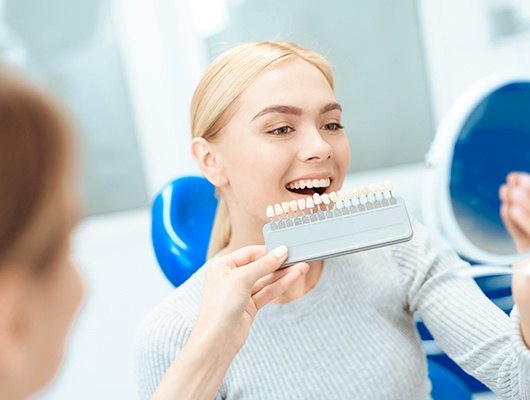 By erasing multiple imperfections at once, porcelain veneers give your smile an almost instant do-over. These ultra-thin coverings are bonded directly onto the front surface of your teeth, enhancing their size, shape, color, and alignment. For dramatic smile improvements, you can't go wrong with porcelain veneers.
If you decide that porcelain veneers are just the thing you need to enjoy a beautiful smile, you'll undergo the treatment in two visits. During the first, we'll thoroughly discuss your smile goals and preferences and take precise measurements of your facial shape, size, structure and anything else that affects the appearance of your teeth. We send this important information to our trusted lab where your veneers are expertly created.
When your veneers are ready, you'll come back to our office for final placement. Once the prosthetics are attached, you'll be able to walk out of our office with a new, dazzling smile!
Cosmetic Bonding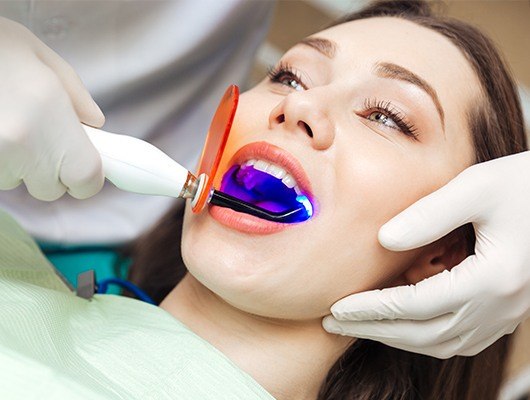 A faster, more economical solution in cosmetic dentistry is cosmetic bonding, which uses a putty-like composite resin to repair aesthetic issues. Chipped, slightly misaligned, gapped or otherwise imperfect teeth can be repaired in just one visit to our office with cosmetic bonding! Because bonding doesn't discolor at the same rate as your natural teeth, you may want to consider periodic teeth whitening to keep your smile beautiful with cosmetic bonding.
Teeth Whitening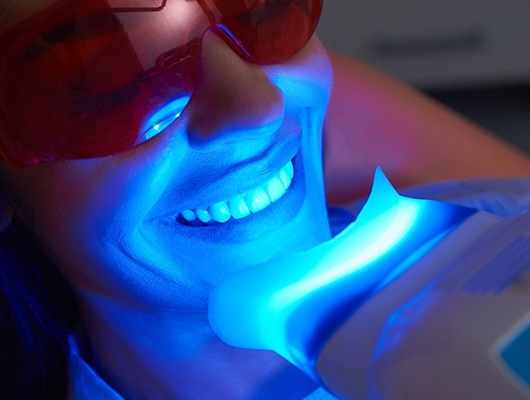 There's no way to avoid the staining of teeth that occurs with age, but you can help reverse discoloration with professional teeth whitening. We offer both in-office and take-home treatments to erase stains left by repeated exposure to things like food, coffee, tobacco and soda.
An in-office whitening solution is best for patients looking to reveal amazing results quickly. Whether you're preparing for a big event or simply value efficiency, you'll love this option, which can whiten your teeth up to ten shades in just a single, one-hour visit to our office. But if you'd like to whiten more gradually, from the comfort of your own home, we completely understand -- and we're happy to offer a professional take-home solution for your convenience.
We know it can be tempting to pick up an over-the-counter whitening solution these days, but we want to remind you that while teeth whitening is completely safe, it's always best to whiten under the supervision of a dental professional. Not only is it safer for your enamel and overall health, but we can also provide a high-powered bleaching solution, for better results than can be achieved over-the-counter.
Gum Recontouring
When you look in the mirror, do you notice how disproportionately gummy your smile is? The main focus of your grin should be the beautiful pearly whites that you keep healthy, not pink tissue! With our soft tissue laser, we can precisely reshape your gumline to make your smile more symmetrical. The best part about this procedure is that no scalpels or sutures are necessary, and your recovery time will be quick!
Contact Us Today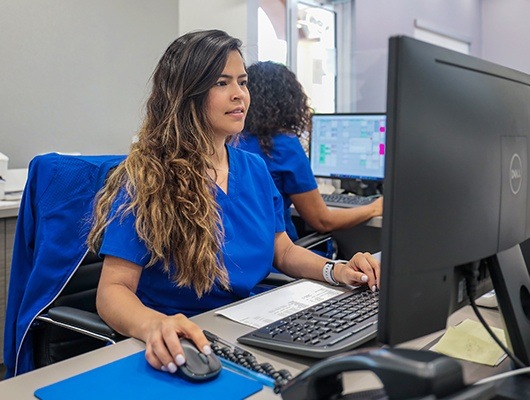 Contact our Coral Springs, FL office to learn more about cosmetic dentistry today! We warmly welcome patients from Parkland, Coconut Creek, Margate, Tamarac, and Deerfield Beach.