TMJ/TMD Therapy – Coral Springs, FL
Addressing Jaw Pain & Discomfort
If you're dealing with chronic head, back, ear or facial pain, you probably haven't considered your jaw joint as the source of your discomfort. But when something's off with the alignment of your TMJ, or the temporomandibular joint, the problem can manifest itself in a number of painful ways. Nighttime teeth grinding (or bruxism) is a related condition that can be brought on by or cause TMJ disorder. The symptoms of both conditions can be relieved with a custom-fit night guard.
Why Choose Kulick Dental Group for TMJ/TMD Therapy?
Stop Nightly Teeth Grinding
We Accept Dental Insurance
Customized TMJ Appliances
What is TMJ/TMD?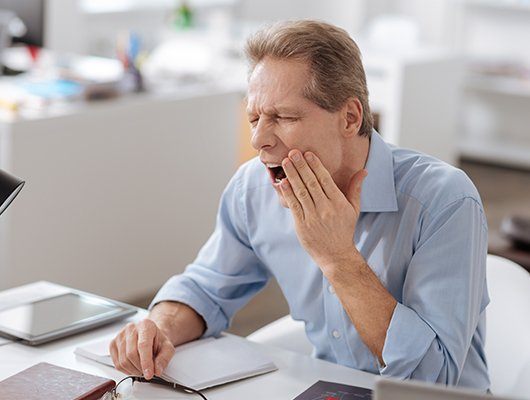 TMJ and nighttime teeth grinding are often caused by physical and emotional stress, but small changes in eating habits or fluctuations in hormones can also contribute to the condition. No matter the cause, knowing the symptoms associated with TMJ and bruxism can help you to seek a diagnosis and treatment sooner. Some of the most common side effects include:
Chronic headaches and migraines
Clicking or popping jaw
Facial, back, neck, shoulder and jaw pain
Frequent ear ringing
Worn teeth
Increased tooth sensitivity
If you're suffering from these symptoms, our dentists can perform a thorough examination to determine if TMJ or bruxism are at the root of your problems. If so, you can find relief with a customized TMJ treatment at Kulick Dental Group. Patients in Coral Springs, Parkland, Coconut Creek, Margate, Tamarac and Deerfield Beach should contact us to learn more today!