Dental Bridges – Coral Springs, FL
Closing the Spaces in Your Smile
Having consecutive missing teeth can make it challenging to perform normal oral habits, such as eating comfortably, speaking clearly, and smiling confidently. If this is something you're struggling with, you may be able to effectively replace them. Our team at Kulick Dental Group can restore the function and appearance of your missing teeth with a dental bridge in Coral Springs. With this durable and natural-looking solution, you can be sure to regain the full use of your pearly whites again for many years to come. Read along or give us a call today to learn more!
Why Choose Kulick Dental Group for Dental Bridges?
Creates Durable Dental Restorations In-House
Personalized & Natural-Looking Treatments
Offers Alternative Financing & Accepts Dental Insurance
What Is a Dental Bridge?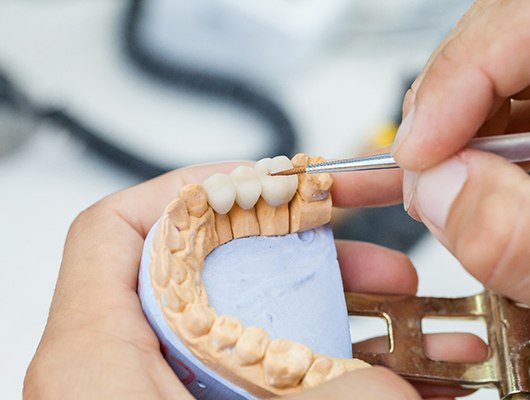 A dental bridge is a custom-crafted restoration that is specifically designed to replace one or more consecutive missing teeth—typically between one and four of them in a row. This sturdy and tooth-colored bridge consists of two crowns that are usually supported by adjacent ones on either side of the gap. Once they're anchored on the abutment teeth, they'll allow for the pontics or connecting pearly whites between the crowns to rest firmly in place.
Types of Dental Bridges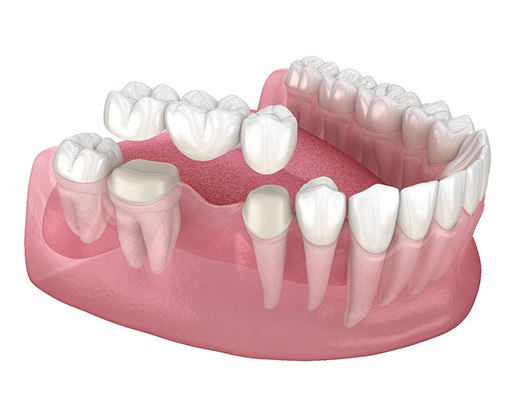 There are a couple of dental bridge options that can help restore your smile depending on the number of missing teeth and their location. Here are the following types to consider and what to expect from them:
Traditional Dental Bridge
A traditional dental bridge is typically recommended for patients who still have healthy teeth on both sides of the gap that needs filling in. Before attaching these restorations to your mouth, we'll first need to alter the abutment teeth by removing a small amount of enamel to allow the bridge to fit properly. This treatment is generally the more affordable option and can be completed in just a few appointments. The restoration, however, may need to be replaced or adjusted every several years depending on how well you care for it.
Implant Bridge
If you aren't able to anchor a dental bridge with the adjacent teeth on either side of the gap, then you may need to get dental implants first. By surgically embedding titanium posts into your jawbone, we can later fit your restoration atop a stronger foundation. This is especially useful if you have three or more consecutive missing teeth, as a longer bridge will require more stability to hold it in place. Implant bridges can also last much longer than traditional ones as well as help prevent further tooth loss.
The Benefits of Getting a Dental Bridge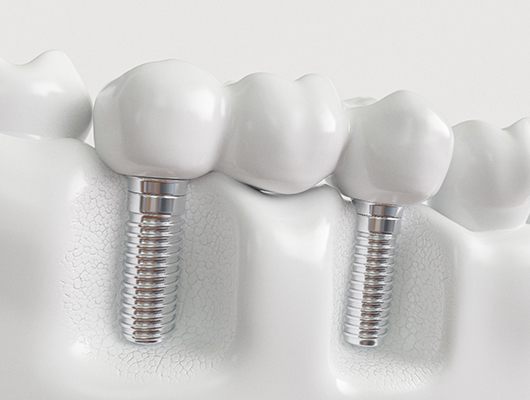 By restoring consecutive missing teeth with a dental bridge, you can expect to enjoy numerous advantages for your smile, including:
Customized and natural-looking tooth replacement solution
Preserve your jawbone and facial shape (with implant bridges)
Easier teeth cleaning process
Can last 10+ years (traditional) or 20+ years (implant-supported) with proper care