Dental Implants – Coral Springs, FL
The Best Solution for Tooth Replacement
If you've lost one or more teeth, you're missing out on a lot of what life has to offer. Your ability to smile, speak, and eat with ease can all be affected, taking a big toll on your overall self-confidence. If any of this sounds familiar to you, you should know about your options in comprehensive tooth replacement with dental implants in Coral Springs. Considered the best solution for tooth replacement by far, keep reading below to learn all about this treatment and how it can benefit you.
Why Choose Kulick Dental Group for Dental Implants?
Start-to-Finish Dental Implant Treatment
Experienced Periodontal Specialist
In-House Dental Laboratory
What Are Screw-Retained Dental Implants?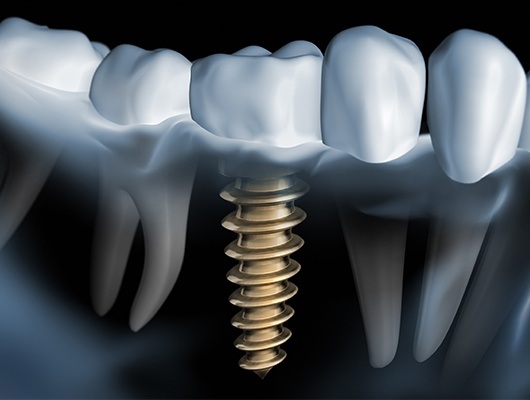 Cemented implant-retained restorations have long been the standard for this procedure. However, it's not the most beneficial and risk-free option for patients. Cemented implant restorations are known to result in peri-implantitis due to the fact that all of the excess cement needs to be removed if an implant fails.
For the last 25 years, Dr. Kulick has been using screw-retained implants, which are a much safer design that reduces the risk of complications. He has a patented designed implant abutment, allowing all crowns to be screw-retained.
Benefits of Dental Implants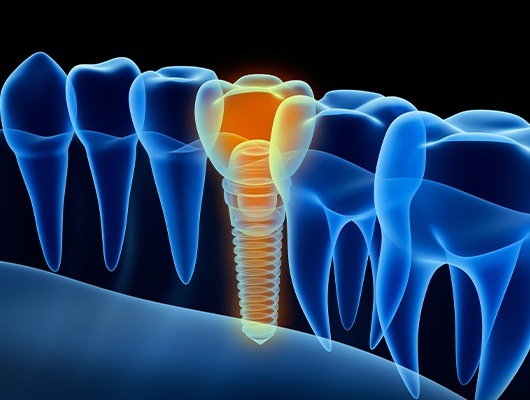 Here are just a few of the reasons that many of our patients choose dental implants instead of other options to rebuild their smiles after tooth loss:
A beautiful set of pearly whites that feels and looks as natural as the teeth you were born with
A sturdy, solid bite that can last 30+ years with proper aftercare
The ability to eat all of your favorite foods again
Restoring tooth root structures that promote jawbone density and healthy gum tissue volume
Relief from pain in the mouth, jaw, and neck that can come from traditional dentures alone
A success rate of 95 percent
Prevent remaining teeth from drifting out of place
No stress placed on other teeth to support your new ones
Are Dental Implants Right for You?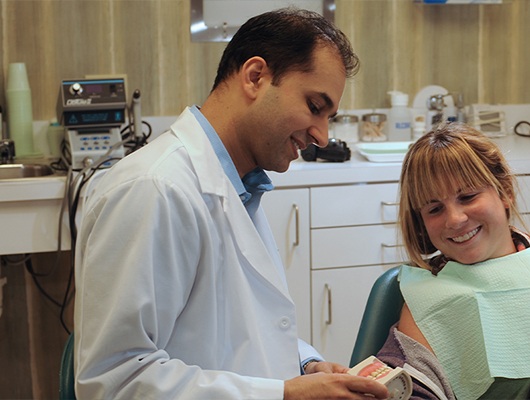 Because dental implants are the most versatile solution to tooth loss, your dentist in Coral Springs can use them to replace any number of missing teeth. Some of the options we may recommend include:
Missing Single Tooth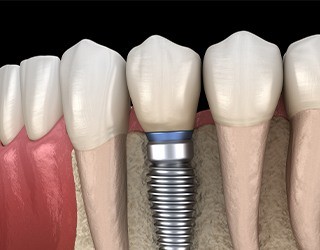 If you're only missing one tooth, we can place a single implant post into your jaw and anchor a dental crown on top of it. We can custom make the crown to blend in with the appearance of your adjacent teeth. Best of all, the surrounding teeth won't have to be altered because the implant and crown structure can fully support itself.
Missing Multiple Teeth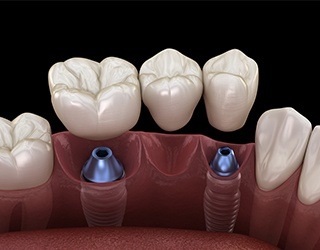 For patients who need to replace two or more missing teeth in a row, we can place a dental implant at both ends of the gap in your grin. A dental bridge (a string of durable, lifelike artificial teeth) is installed on top of the implants, giving you the appearance of a perfectly natural smile. While traditional bridges wear down natural teeth, implant-supported bridges are held up by implants, avoiding damage to your remaining pearly whites.
Missing All Teeth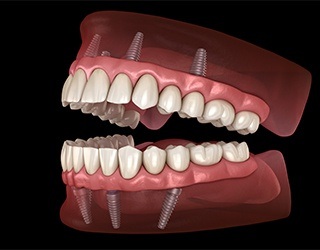 To replace an entire arch of missing teeth, we can place an average of four dental implants and attach a personalized denture to them. Because they're supported by sturdy implants, you won't have to worry about your new teeth slipping or sliding, allowing you to speak and chew confidently.
Learn More About All-On-4 Implant Dentures
Oral Surgery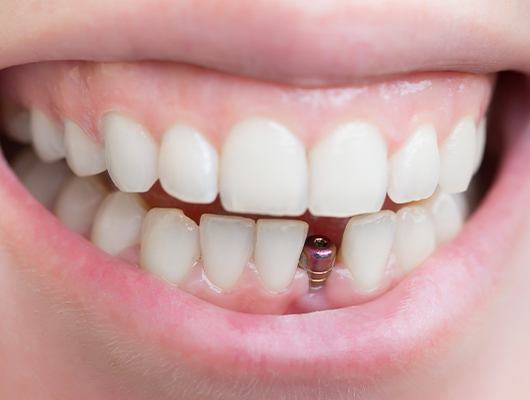 If you require any type of oral surgery, including dental implant placement, you won't have to worry about visiting a different specialist to get the procedure you need, because we complete everything under our own roof. Our periodontal specialist is highly skilled and trained to complete more complex procedures, so you can rest-assured that no matter what services you need, we can take care of you and you'll be able to stick with the same, trusted team of specialists you started with.
Start-to-Finish Convenience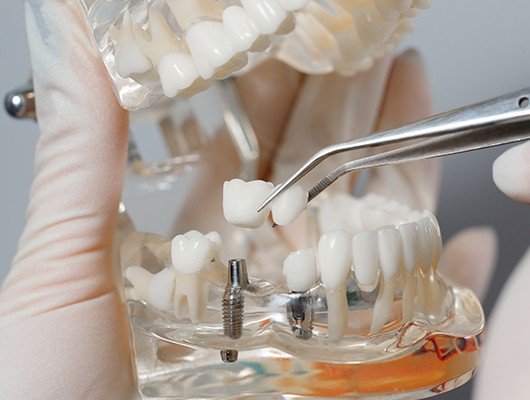 Many general dentists don't have the specialized training required to place dental implants themselves. They then have to refer their patients to an outside specialist, like a periodontist or an oral surgeon. Here at Kulick Dental Group, though, we have our very own in-house periodontist: Dr. Muyeenul Hassan. That means you won't have to visit someone you don't even know just for your implant placement procedure. You can receive the care you need from the dental professionals you already know and trust!
Understanding the Cost of Dental Implants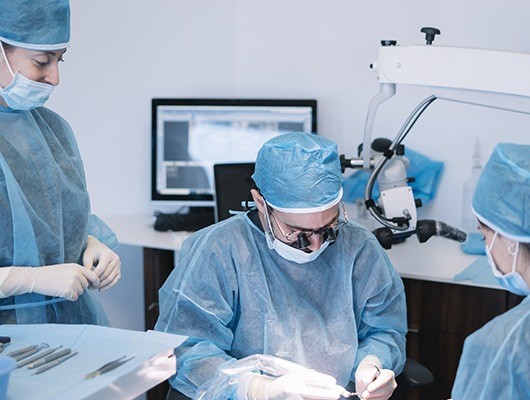 The cost of your implant treatment could vary based on a number of factors, including:
Whether you'll need any preparatory procedures like tooth extractions or bone grafting
How many implant posts you'll need
Where in your mouth your missing teeth are located
Which kind of restoration you're receiving
During your consultation, our dentists will walk you through what your implant journey will look like, including providing a cost estimate. Our team members can help you process any available dental insurance benefits and work with you to access other financing options whenever possible.
If you'd like to learn more about your options with dental implants, please don't wait to contact our Coral Springs office. We warmly welcome patients from Parkland, Coconut Creek, Margate, Tamarac, and Deerfield Beach.
Dental Implant FAQs
Dental implants in Coral Springs are the most reliable solution to replace missing teeth. Although you're excited to enjoy the benefits for yourself, it's normal to have a few concerns before you're ready to commit to the procedure. We understand your apprehensions, which is why we'll explain everything during your consultation. To help calm your nerves, here are the most common questions patients ask us about dental implants.
How Long Do Dental Implants Last?
Thanks to many advancements over the years, dental implants offer the most predictable results. They have over a 95% success rate and are proven to last for decades with the right aftercare. You can help safeguard your new smile by committing to your oral hygiene at home. Don't forget to visit your implant dentist in Coral Springs at least twice a year for a cleaning and checkup. A proactive approach to your oral hygiene can prevent unwanted complications that can lead to dental implant failure, like an infection.
Does Getting Dental Implants Hurt?
It's normal to be concerned about pain when beginning the dental implant process. You'll require oral surgery to strategically place your implant posts into your jawbone. Don't worry, sedation or anesthesia is used to ensure you're comfortable during the procedure, so you won't feel any pain. You can expect there to be some discomfort for a few days following your placement surgery; however, you can manage it using an over-the-counter pain reliever. After your mouth has healed, you shouldn't feel any pain. If you develop any tenderness, it can be a sign of a complication, like an infection. It's best to see your dentist right away to pinpoint the source of the issue to provide the right intervention to avoid complete dental implant failure.
How Successful Are Dental Implants?
Dental implants are the most successful solution to replace one or more missing teeth. Their longevity is based on several factors, like having the right foundation. Your dentist will perform a thorough consultation to ensure you're a candidate for dental implants. In some cases, they might recommend additional procedures to reduce the risk of any complications, like bone grafting. With an experienced and qualified implant dentist by your side, you'll have everything you need to invest in a long-term option to treat your tooth loss. Once your dental implants are in place, brush and floss your teeth regularly. In addition, you should see your dentist at least every 6 months to ensure your new smile lasts for a lifetime.
Will I Have to Take Off Work for Dental Implant Surgery?
You will need to miss a day or two from work for your implant placement surgery and to allow the effects of any anesthetics to dissipate. We may advise against certain activities for a few days while you recover. We know your time is valuable, which is why our office embraces the latest techniques and technologies to reduce the time you're in the dental chair, so you can get back to your daily responsibilities.