Dental Implants – Coral Springs, FL
The Best Solution for Tooth Replacement
If you've lost one or more teeth, you're missing out on a lot of what life has to offer. Your ability to smile, speak, and eat with ease can all be affected, taking a big toll on your overall self-confidence. If any of this sounds familiar to you, you should know about your options in comprehensive tooth replacement with dental implants in Coral Springs. Considered the best solution for tooth replacement by far, keep reading below to learn all about this treatment and how it can benefit you.
Why Choose Kulick Dental Group for Dental Implants?
Start-to-Finish Dental Implant Treatment
Experienced Periodontal Specialist
In-House Dental Laboratory
What Are Screw-Retained Dental Implants?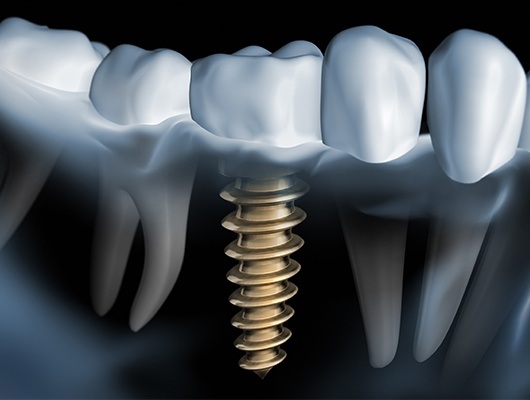 Cemented implant-retained restorations have long been the standard for this procedure. However, it's not the most beneficial and risk-free option for patients. Cemented implant restorations are known to result in peri-implantitis due to the fact that all of the excess cement needs to be removed if an implant fails.
For the last 25 years, Dr. Kulick has been using screw-retained implants, which are a much safer design that reduces the risk of complications. He has a patented designed implant abutment, allowing all crowns to be screw-retained.
Benefits of Dental Implants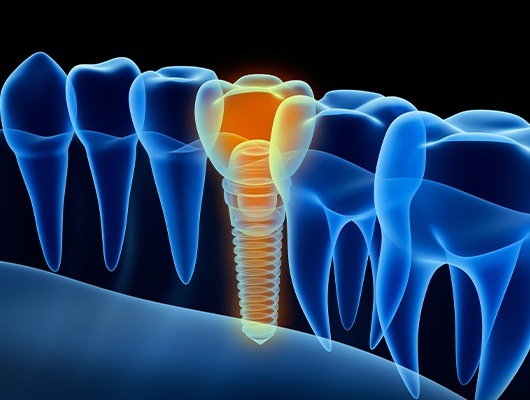 As the only tooth replacement method that rebuilds every single part of a lost tooth, dental implants provide multiple unique advantages over traditional dentures and dental bridges. Essentially, they become part of your own anatomy and function exactly like the teeth you once had. Once you learn more about the amazing benefits of dental implants in Coral Springs, you'll understand why millions of Americans have chosen this solution to enjoy complete smiles again!
Day-to-Day Benefits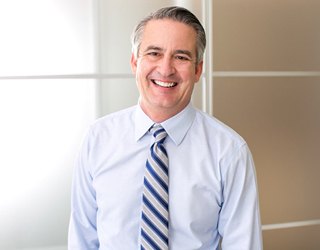 After you've lost teeth, you start to realize just how often you use your teeth in everyday life. By replacing your missing pearly whites with dental implants, you can enjoy these day-to-day benefits:
Confidence – The crown, bridge, or denture that goes on top of your implant posts will be fabricated to perfectly complement your facial features and look just like your natural smile.
Clear speech – Regular dentures notoriously move around when you're talking or eating, especially if they don't fit correctly. With dental implants, you'll be able to speak clearly and smile confidently knowing that your new teeth are firmly anchored in your jaw and won't slip out of place.
Easy maintenance – Dental implants don't require a complicated oral hygiene routine. For the most part, you can simply brush and floss them on a daily basis as you would with natural teeth.
Health Benefits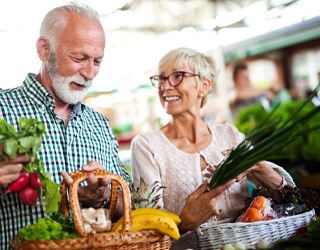 Dental implants in Coral Springs provide so much more than just aesthetic advantages. They can also benefit your health in the following ways:
Prevent dental drift – When a tooth is lost, the adjacent teeth naturally shift to move into the gap. This makes it harder to replace that tooth later on. Not to mention, it can require orthodontic intervention. By placing a dental implant in the space, the rest of your teeth stay in their proper positions.
Preserve the jawbone – The roots of your teeth stimulate your jawbone every time you bite and chew. When these roots are missing, that section of your jawbone begins to shrink from disuse. Not only does this bone loss cause your face to appear sunken and wrinkled, but it increases your risk of further tooth loss. Because dental implants stimulate the jawbone, they help you maintain a youthful glow and a healthy smile.
Allow you to maintain a healthy diet – Dentures and bridges only replenish a fraction of the chewing power you used to have. In contrast, dental implants almost completely restore it. You'll have no problem eating a diet full of various nutritious foods.
Long-Term Benefits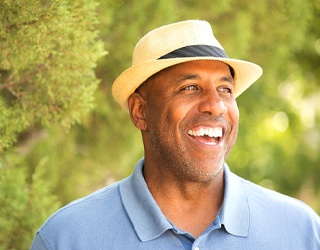 Getting dental implants will improve your life not just now, but for many years to come thanks to their long-term benefits:
Impressive success rate – Even after 20+ years, more than 95% of patients with dental implants are still enjoying full use of their new teeth.
Long lifespan – While bridges and dentures have to be repaired and replaced every few years, dental implants have the potential to last for several decades or even for the rest of your life!
Cost-effective solution – Although dental implants cost more up-front, they actually save you money in the long run because you won't have to get them replaced as often. Instead, they should be a one-time payment that lasts for life as long as you maintain good oral hygiene and regularly visit your implant dentist in Coral Springs.
Who Dental Implants Can Help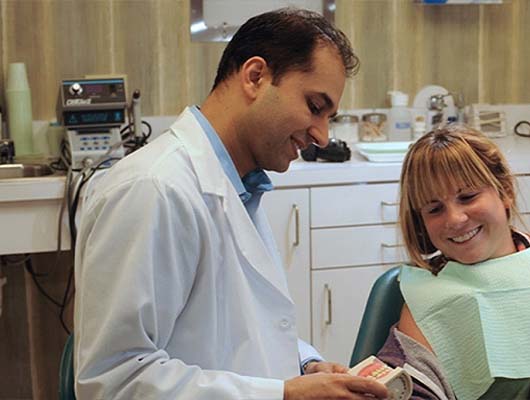 As long as you're an adult who has good oral and overall health and wishes to replace one or more missing teeth, chances are that dental implants can help you! Because dental implants are the most versatile solution to tooth loss, our team at Kulick Dental Group can use them to bring back any number of missing teeth. Here's what you need to know about whether dental implants are right for you.
Who Is a Good Candidate for Dental Implants?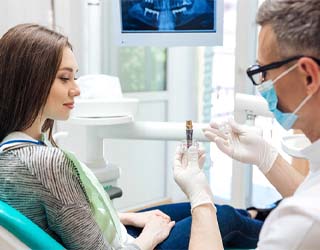 During your initial consultation, your dental implant dentist in Coral Springs will look for a few key qualities to see whether you're eligible for the treatment. In general, the ideal dental implant candidate:
Is free of any overall health issues that could prevent minor oral surgery.
Has enough healthy jawbone density to support dental implants.
Is willing to practice good oral hygiene after the implants have been placed.
Even if you don't meet these standards at first, there are still ways that you can qualify for dental implants! For example, bone grafting can strengthen the weakened area of a patient's jawbone, allowing implants to have the strong foundation they need.
If and when we decide to move forward with the dental implant process, we will choose one of the following treatment options depending on the number of teeth you need to replace:
Missing One Tooth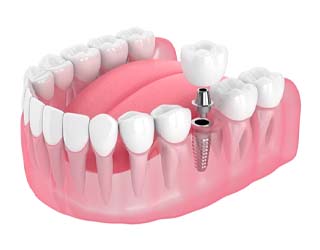 To replace a single missing tooth, we can vertically insert one dental implant post into the socket where the tooth's roots once were. Then, we'll install a custom crown on top, which will have been customized to blend in with your surrounding teeth. This solution is much more conservative than a dental bridge that relies on your remaining teeth for support. While dental bridges weaken these teeth over time, a dental implant doesn't require the natural structure of your healthy teeth to be altered, making it the healthier option in the long run.
Missing Multiple Teeth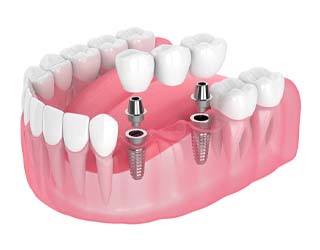 For patients who need to replace two or more missing teeth in a row, we can place a dental implant at either end of the gap in your grin. A dental bridge is installed on top of the implants, giving you the appearance of a perfectly natural smile. Unlike traditional dental bridges, implant bridges are self-reliant, preventing damage to your remaining pearly whites.
If you're missing multiple teeth at various spots in your mouth, we can place a small number of dental implants at precise locations in order to support a customized partial denture.
Missing All Teeth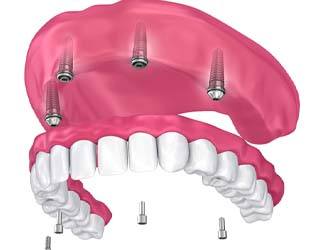 Even patients who have lost all of their teeth on one or both arches can benefit from dental implants in Coral Springs. We can restore an entire arch of teeth by securing a full denture onto an average of four to six implant posts at specific angles and locations throughout the jaw. Because your prosthetic is firmly supported by implants, you won't have to worry about your new teeth slipping around. You'll be able to chew, talk, and smile confidently!
We also offer All-on-4 implants, which allow us to anchor a full denture using just four implant posts. Oftentimes, All-on-4 patients can even receive their new prosthetic on the same day as their implant surgery!
Oral Surgery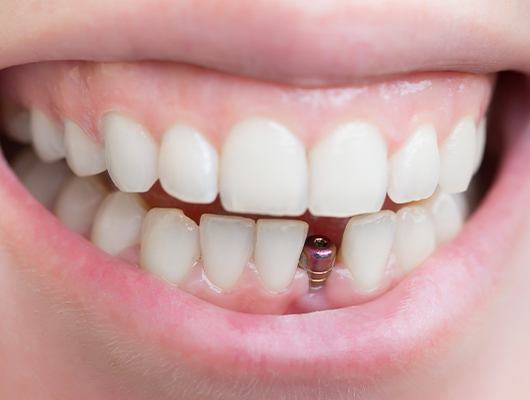 If you require any type of oral surgery, including dental implant placement, you won't have to worry about visiting a different specialist to get the procedure you need, because we complete everything under our own roof. Our periodontal specialist is highly skilled and trained to complete more complex procedures, so you can rest-assured that no matter what services you need, we can take care of you and you'll be able to stick with the same, trusted team of specialists you started with.
The 4 Step Dental Implant Process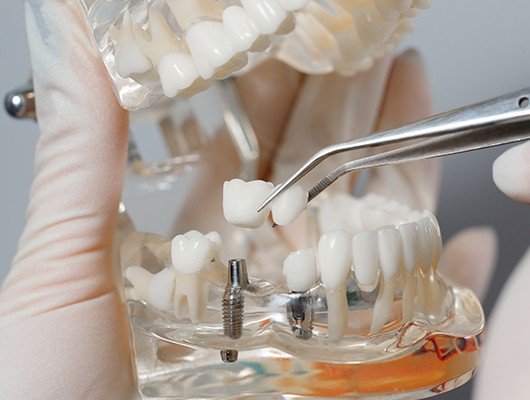 Unlike traditional dentures and dental bridges, the process of receiving dental implants takes more time. There are multiple steps you must take to ensure that your treatment is successful and will stand the test of time. From the initial consultation to the final placement of your restoration, you will be expected to commit to the entire process. And while many general dentists don't have the specialized training required to place dental implants themselves. They then have to refer their patients to an outside specialist, like a periodontist or an oral surgeon. Here at Kulick Dental Group, though, we have our very own in-house periodontist, Dr. Muyeenul Hassan. That means you won't have to visit someone you don't even know just for your implant placement procedure. You can receive the care you need from the dental professionals you already know and trust!
Read on to learn more about how dental implants work in Coral Springs, and contact us to schedule an appointment.
Initial Dental Implant Consultation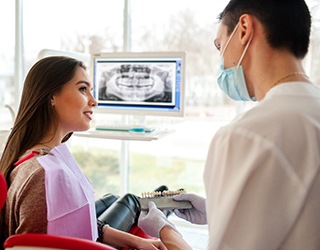 Your initial consultation will consist of discussing your smile goals as well as whether you require any preliminary treatments before receiving your dental implants. If we discover your jawbone lacks the necessary density, you have gum disease, or you are suffering from severe tooth decay, we will need to perform various services to ensure that your dental implants remain firmly in place once they are surgically inserted into your jawbone. No matter if you need bone grafting, periodontal therapy, or tooth extraction, you can expect these procedures to add to your timeline; however, they will be well worth the wait once you achieve your final results.
Dental Implant Surgery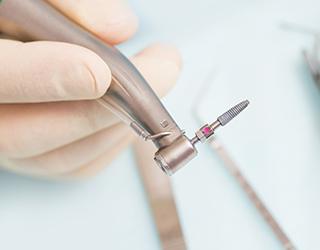 The dental implant surgery will be performed by our implant dentist in Coral Springs, Dr. Hassan. With years of experience and training, he will take proper care to make sure you are in no pain while receiving permanent prosthetics that will change your life. After administering local anesthesia, he will make one or more incisions in your gums to expose the bone. Carefully positioning each implant into its designated spot, he will close the gum tissue and place a protective cap over the area.
Dental Implant Osseointegration/Abutment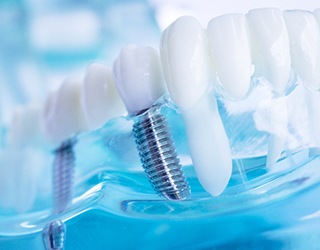 After your surgical procedure, you will return home to spend 3-6 months recovering. It is during this time that osseointegration will occur, causing your implants to fuse with your bone tissues. This ensures a firm foundation for your customized restoration, which will be the final step in the process. But before you receive your new teeth, you must fully heal and have your metal abutments added. These are small connector appliances that attach to your implants and hold the restoration in place.
Delivery of Dental Implant Restorations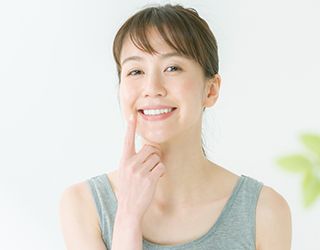 The final step in your dental implant process is receiving your finalized restoration. Depending on the number of teeth you are missing as well as how many dental implants you need, you may receive a dental crown, bridge, or denture. It will be customized according to the specifications we provide, allowing you to enjoy a beautiful prosthetic that blends in with your natural teeth and offers far greater functionality. Not only will you be able to smile with greater confidence, but your dental implants in Coral Springs will ensure better oral health, continuous jawbone stimulation, and the ability to embrace a full and more enjoyable life.
Understanding the Cost of Dental Implants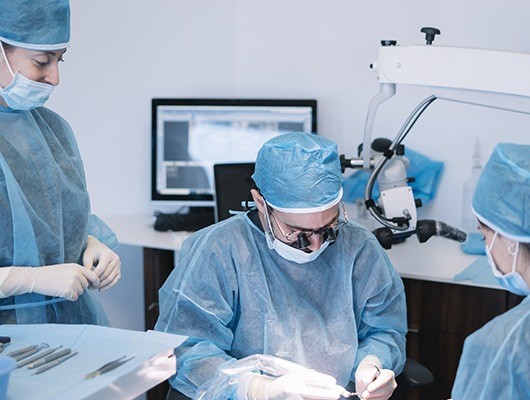 The cost of your implant treatment could vary based on a number of factors. During your consultation, our dentists will walk you through what your implant journey will look like based on your unique situation and provide an accurate cost estimate. From there, our team can help you navigate your options for making your new smile affordable. Below, you'll find some of the variables that can influence the cost of dental implants in Coral Springs.
Preliminary Treatments & Dental Implant Surgery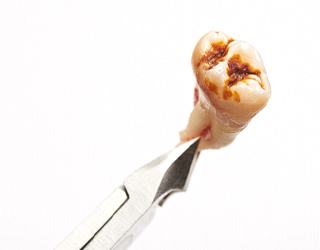 Before getting started, we may need to prepare your mouth for dental implants. For example, you may need to undergo gum disease therapy if you have infected gums. Likewise, if the damaged teeth that need to be replaced are still in your mouth, they will need to be extracted. These and other preliminary treatments will increase your overall costs. However, they are critical to the success of your dental implants.
Oral surgery, which may involve anesthesia, also incurs its own cost. Fortunately, at Kulick Dental Group, we have our very own in-house periodontist. This means you won't have to visit an outside specialist for your implant placement procedure. Keeping every step of the implant process in-house saves you time and keeps fees more compact and convenient.
The Parts of Your Dental Implant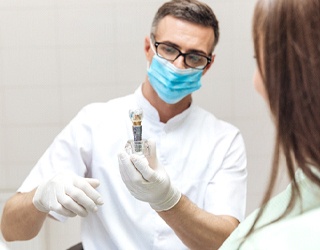 The number of dental implants you need will obviously impact the cost of treatment. Replacing a single missing tooth with an implant will cost less than restoring an entire arch with 4 to 6 implants. Other factors to keep in mind include:
Size and material – Some implants are made longer or shorter depending on the placement and the patient's jawbone. Meanwhile, some manufacturers choose zirconia instead of titanium to craft implants.
Type of restoration – Crowns, bridges, dentures each cost different amounts, with smaller restorations usually less expensive.
Brand – Different manufacturers make dental implants differently to cater to unique needs of certain patients.
During your consultation, feel free to ask us about where your implant is coming from and what are the brand-specific benefits.
How Dental Implants Can Save You Money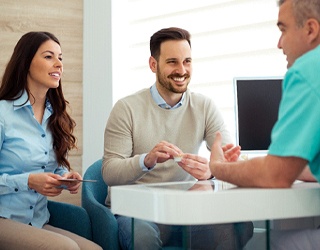 Are you also considering traditional dentures or dental bridges? Many patients are tempted by these options because of their lower initial price. However, dental implants are usually the more cost-effective choice in the long run. With proper care, implants can easily last for decades. Traditional dentures and bridges, on the other hand, typically must be replaced every five to 10 years. Dental implants are also easy to keep clean, which means they'll help you prevent issues like gum disease, tooth decay, and jawbone deterioration, as well as the costs associated with treating them.
Does My Dental Insurance Cover Dental Implants?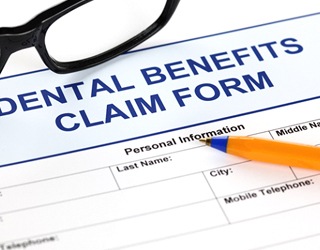 In general, dental insurance does not cover dental implants in Coral Springs. However, there are some important exceptions. Portions of your treatment may be covered, such as a percentage of your final restoration or preliminary treatments like gum disease therapy. Our team has years of experience helping patients maximize their insurance benefits. We will be happy to review the details of your plan to confirm your coverage!
Making Dental Implants Affordable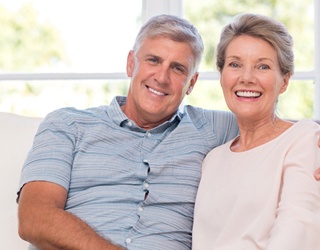 At Kulick Dental Group, we believe every patient should be able to afford a healthy, complete smile. That is why we offer additional financing options for dental implants through CareCredit. A trusted partner, CareCredit allows qualified patients to break down the cost of implant treatment into manageable monthly payments. Many plans come at extremely low or no interest rates, which makes paying for implants a possibility on virtually any budget! Contact one of our implant dentists in Coral Springs to learn more.
Advanced Dental Implant Procedures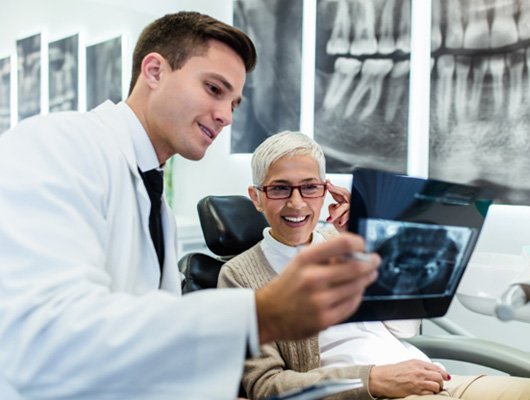 Dental implants have an incredibly high success rate, but not everyone is automatically a good candidate for implant treatment. If you have been missing teeth for quite some time, your jawbone may have gradually deteriorated. Insufficient jawbone depth is a common factor in implant failure. Thankfully, an advanced dental implant procedure in Coral Springs can help rebuild your jawbone and pave the way to successfully restoring your smile with dental implants. Keep reading to learn more about bone grafts, sinus lifts, and ridge expansions at Kulick Dental Group, or contact us to schedule an appointment.
Bone Grafting
If you have a weakened jawbone from years of missing teeth, you may be able to benefit from bone grafting in Coral Springs. This advanced procedure can enhance the thickness of your jawbone by transferring a small piece of bone to the weakened area of your jaw. The new bone material will stimulate your body to produce new bone cells in the affected area, thereby slowly building your jawbone back to full strength and thickness.
The small piece of bone or grafting material used in this procedure can come from:
The patient's hip bone or rear jawbone
A separate human donor
An animal source
Synthetic grafting material
A bone grafting procedure typically requires 3-6 months to fully heal. Once your jawbone is back to full strength, you will be ready to begin dental implant treatment.
Sinus Lift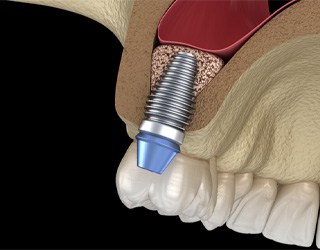 If you are missing a tooth in the upper arch, you may not have enough bone near the maxillary sinuses to support dental implants. If this is the case for you, a sinus lift in Coral Springs can make room for new bone to be added to the area near your molars and premolars.
Sinus lift surgery begins with a small incision in the gum tissue where your back teeth used to be. Next, our dentist will open a small window in the underlying bone and gently lift the sinus membrane up and away from your jaw. Grafting material is then placed in the hole to stimulate new bone growth. Finally, they will stitch up your gums and the healing process will begin. You'll be ready to receive your dental implants after 4-12 months.
Ridge Expansion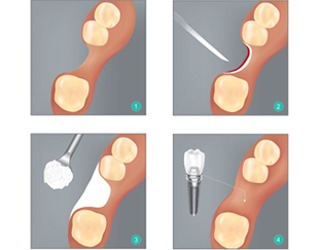 Dental implants are placed in a special part of the jawbone called the alveolar ridge. The ridge must not only be deep enough to support implants, but it must also be wide enough. If yours is not adequately sized, we may suggest that you undergo ridge expansion.
A ridge expansion is a surgery wherein the ridge bone is divided into two, then wedged apart. The space between the inner and outer sections can then be filled with a bone graft. In some cases, dental implants in Coral Springs can be placed at the same time as ridge expansion. In other instances, a healing period is necessary after the surgery before a patient can move forward with the next phase of their treatment.
Dental Implants Post-Op Instructions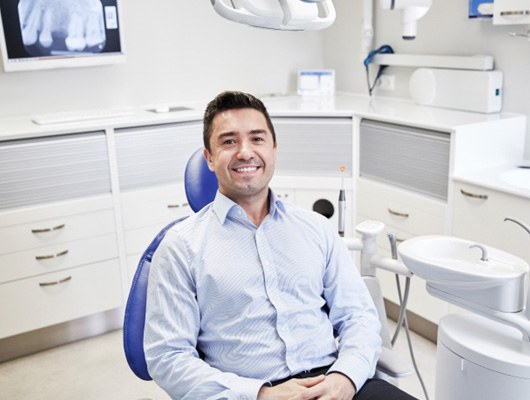 It's normal to be nervous about the recovery period after dental implant placement, but don't worry; side effects are typically minor, and many patients are able to go back to their regular routines after a few days of rest. Furthermore, our team will give you clear instructions for protecting your dental implants and the rest of your mouth until recovery is complete. Now's a good time to familiarize yourself with some of the steps for a successful healing process.
What to Do Directly After Dental Implant Surgery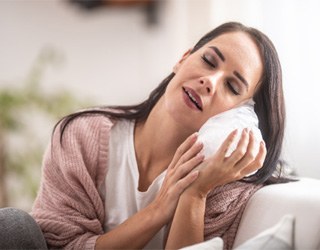 Blood clots will be created at the sites where dental implant surgery is performed. This is vital for the healing process; the blood clot will keep the area safe while also preventing it from bleeding too much. Losing a blood clot can lead to a painful complication known as a dry socket. As such, during the initial stages of recovery, you should focus on preventing your blood clots from becoming dislodged. You can do this by:
Not spitting or using a straw.
Giving up cigarettes while your mouth is healing.
Keeping your fingers and tongue away from the areas where dental implants have been placed.
Common Side Effects When Recovering from Dental Implant Placement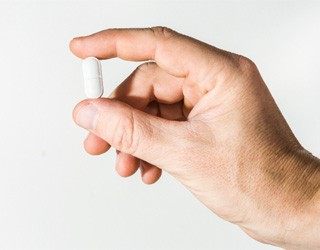 Certain side effects may occur after dental implant surgery. Here's how you can deal with them:
Intermittent Bleeding: If your surgical site starts bleeding, take a piece of gauze and lightly press down on the area. Call us immediately if bleeding becomes uncontrollable.
Swelling: Hold a cold compress against the outside of your mouth over any swollen tissues. Remember that a cold compress should only be used in 15-minute intervals.
Pain: Take any medications that were prescribed to reduce discomfort. Over-the-counter medication can also help, but be sure to strictly follow any directions related to dosage.
Your Diet After Dental Implant Surgery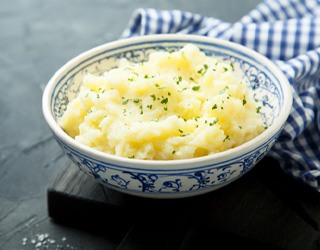 Avoid eating anything hard, sticky, or chewy after your dental implants have been placed. You should only eat soft meals until you regain your ability to chew a wider variety of foods. Make sure that your fridge and pantry are well-stocked with soft, healthy options like yogurt, mashed potatoes, and pasta.
Post-Op Health & Oral Hygiene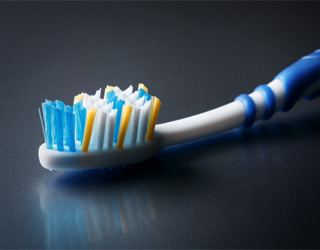 You may be nervous about brushing around your dental implant posts, but it's fine to do so as long as you're being very gentle. We also suggest rinsing with salt water two or three times a day; it's often an excellent way to prevent harmful oral bacteria from causing an infection while your mouth is trying to heal.
What to Do After Your New Teeth Are Attached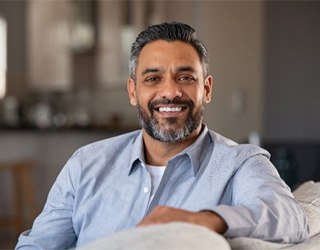 Several months after your dental implants have joined with your jawbone, you'll receive a crown, bridge, or denture to fully rebuild your smile. There might be some sensitivity, but at this point, there shouldn't be any bleeding or swelling. Please call us if you notice any unusual symptoms once your new teeth are in place.
Maintaining & Caring for Your Dental Implants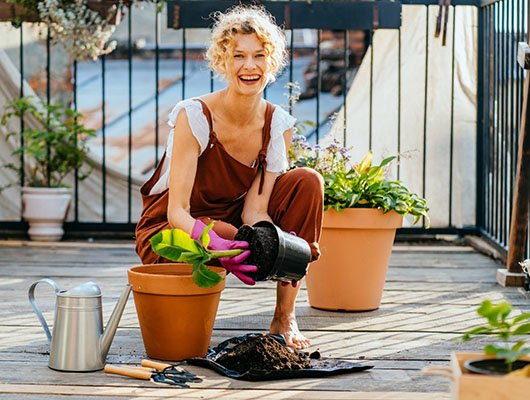 With a success rate of 95 percent after 10 years and the ability to last over 35 years with the proper maintenance, to get the most out of your new dental implants in Coral Springs, you'll need to take excellent care of them. Your new, natural-looking and feeling replacement teeth are strong and healthy right now, but if you make a few poor oral hygiene decisions, that could all change. By following some of the tips that our team has included below on how to maintain your new smile, you'll be able to truly maximize your investment in dental implants.
Make Oral Hygiene a Priority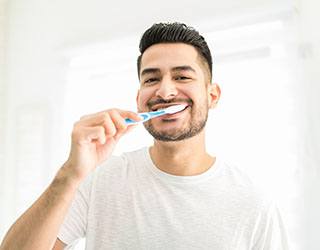 Even though your prosthetics that are secured to your dental implants can't get cavities, it's still crucial for you to keep up with all of your regular oral hygiene practices, like brushing twice each day for two minutes, rinsing your mouth, and visiting your dentist every six months for checkups and cleanings. One of the leading causes of implant failure is peri-implantitis, which is a gum infection that is a result of harmful oral bacteria accumulation from poor oral hygiene. With a good routine, you can keep your implants looking and feeling healthy.
Eat a Healthy Diet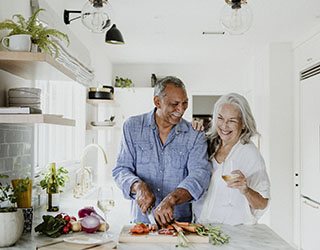 Many patients don't consider how their diet impacts their oral health, but by eating foods that are high in sugars and carbohydrates or snacking regularly throughout the day, you may be lessening the lifespan of your implants. Regularly exposing your mouth to these substances creates a perfect environment for bacteria to thrive. Instead, try snacking on healthier foods, like fresh vegetables, and make sure that you're eating foods with vitamin C and calcium in them to keep your jawbone and gum tissue healthy.
Break Bad Habits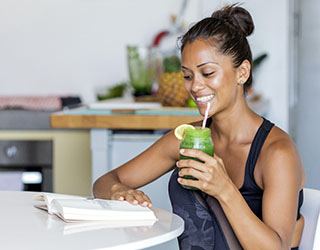 Bad habits like tobacco use can lead to the development of oral infections that cause implant failure. In addition, grinding and clenching your teeth or chewing on hard objects like pens can put your restorations at-risk of becoming damaged. Try to be mindful of these habits and take small steps towards breaking them. If you need help, your implant dentist in Coral Springs can offer you resources or even customized protective mouthwear.
Protect Your Dental Implants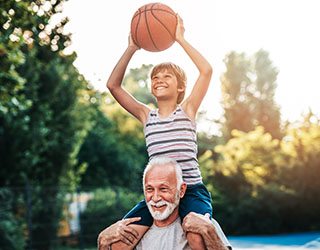 Do you play contact sports that could put your new smile in harm's way? Be sure to invest in one of our custom-fitted Under Armour Performance Mouthwear appliances to keep your prosthetics from accidentally becoming damaged.
Schedule Regular Dental Checkups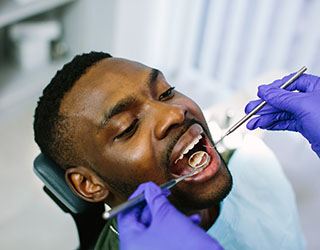 Just like with your natural teeth, visiting your dentist for bi-annual checkups and cleanings is a necessity to keep your new smile healthy. At these visits, we'll make sure that your implant-retained prosthetic isn't damaged and your gums, which act as the foundation of your new smile, are in good health. If we do spot anything that needs to be addressed, like a loose replacement tooth, we can fix the issue before it has a chance to result in a worsening problem.
Dental Implant FAQs
Dental implants in Coral Springs are the most reliable solution to replace missing teeth. Although you're excited to enjoy the benefits for yourself, it's normal to have a few concerns before you're ready to commit to the procedure. We understand your apprehensions, which is why we'll explain everything during your consultation. To help calm your nerves, here are the most common questions patients ask us about dental implants.
How Long Do Dental Implants Last?
Thanks to many advancements over the years, dental implants offer the most predictable results. They have over a 95% success rate and are proven to last for decades with the right aftercare. You can help safeguard your new smile by committing to your oral hygiene at home. Don't forget to visit your implant dentist in Coral Springs at least twice a year for a cleaning and checkup. A proactive approach to your oral hygiene can prevent unwanted complications that can lead to dental implant failure, like an infection.
Does Getting Dental Implants Hurt?
It's normal to be concerned about pain when beginning the dental implant process. You'll require oral surgery to strategically place your implant posts into your jawbone. Don't worry, sedation or anesthesia is used to ensure you're comfortable during the procedure, so you won't feel any pain. You can expect there to be some discomfort for a few days following your placement surgery; however, you can manage it using an over-the-counter pain reliever. After your mouth has healed, you shouldn't feel any pain. If you develop any tenderness, it can be a sign of a complication, like an infection. It's best to see your dentist right away to pinpoint the source of the issue to provide the right intervention to avoid complete dental implant failure.
How Successful Are Dental Implants?
Dental implants are the most successful solution to replace one or more missing teeth. Their longevity is based on several factors, like having the right foundation. Your dentist will perform a thorough consultation to ensure you're a candidate for dental implants. In some cases, they might recommend additional procedures to reduce the risk of any complications, like bone grafting. With an experienced and qualified implant dentist by your side, you'll have everything you need to invest in a long-term option to treat your tooth loss. Once your dental implants are in place, brush and floss your teeth regularly. In addition, you should see your dentist at least every 6 months to ensure your new smile lasts for a lifetime.
Will I Have to Take Off Work for Dental Implant Surgery?
You will need to miss a day or two from work for your implant placement surgery and to allow the effects of any anesthetics to dissipate. We may advise against certain activities for a few days while you recover. We know your time is valuable, which is why our office embraces the latest techniques and technologies to reduce the time you're in the dental chair, so you can get back to your daily responsibilities.