All-On-4 Implant Dentures – Coral Springs, FL
Eliminate Traditional Denture Annoyances with Implants
In the past, dental implants would only be ideal for those with sufficient bone volume. This would make many people ineligible to replace teeth more effectively than ever before, but now that's changed. With the help of All-on-4 implant dentures, those looking for a more stable denture can make their dream smile a reality. The dentists at Kulick Dental Group are more than prepared to get your denture fitting better than ever before. Contact their office to learn more and see if All-on-4 implant dentures are right for you!
Why Choose Kulick Dental Group for All-On-4 Implant Dentures?
Great for Patients with Jawbone Loss
In-House Dental Laboratory
In-House Dental Implant Placement
How Do All-on-4 Implants Work?
Typically, dental implants require having a significant amount of bone volume in your jaw so the implants have ample room to integrate properly. All-on-4 takes advantage of the bone that is already present and then angles the titanium posts so that it maximizes this bone for integration. Since implant-retained dentures only require four implants to place, you can easily fit a complete denture on top of the implants and effectively replace either a bottom or top arch in the process!
Am I a Candidate for All-on-4 Implants?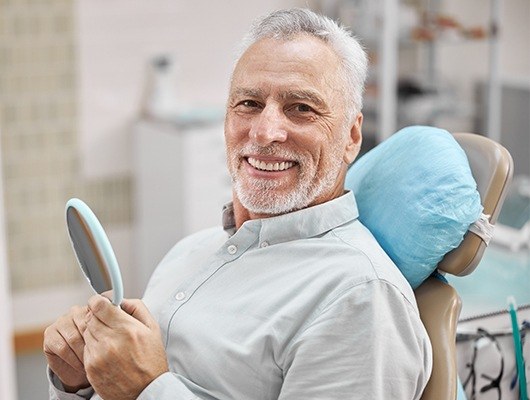 During your implant consultation, our dentists will perform a thorough examination of your mouth and jaw bone to confirm your eligibility for dental implants. All patients will need to have optimal oral health to receive dental implants of any kind, especially healthy gum tissue. Any dental disease that's present will need to be managed and treated first before implantation can begin. Furthermore, those who are only missing one or a handful of teeth may want to consider a single implant or implant-retained bridge instead.
What are the Benefits of All-on-4 Implants?
Unlike mini dental implants, All-on-4 implant dentures make it possible to replace an arch of teeth in either the top or bottom jaw. Even though you're only placing four implants to restore an entire arch of teeth, you'll still be able to enjoy numerous benefits that you'd typically find with dental implants, including:
Restored blood flow (prevents premature aging)
Stronger biting force (up to 70 percent more strength)
A long-term solution to rampant tooth loss
A more naturally-pleasing solution
All-on-4 vs. Traditional Dental Implants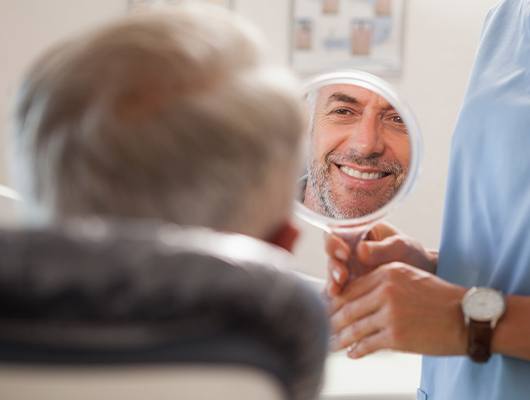 Traditional dental implants take anywhere between six to eight months to fully integrate with your existing jaw bone. That means you'll be without your denture for an extended period of time while the implants heal. In contrast, All-on-4 implant dentures allow you to keep your smile while the implants heal. They truly are the best solution for someone trying to replace teeth quickly while still going with the most effective restorative solution in the process.
Are you ready to speak with a dentist in Coral Springs about your next tooth replacement? Consider All-on-4 implant dentures and get started smiling, chewing and laughing with confidence again today!