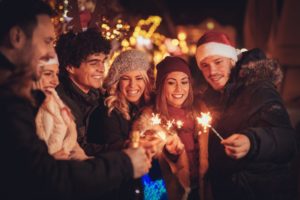 As the current year approaches its end and a new one is on the horizon, it's common to make some resolutions. For many people, these goals can be lofty and sometimes unrealistic. Your dentist in Coral Springs says that when it comes to your oral health, though, it's best to be practical. Thus, as you continue reading, you'll learn some valuable tips that will enhance your dental wellness and help you prevent unnecessary issues in the new year!
Tip #1 – Ramp-Up Your Oral Hygiene
Have you been slacking on brushing and flossing your teeth on a consistent basis? If so, a simple goal to set for the upcoming year is to do both at least twice daily. The combination of the two will help to prevent tooth decay and keep your gums healthy.
Tip #2 – Avoid Sugary Drinks
It may be a normal routine of yours in the morning to stop for a potent cup of coffee, full of sugar and syrup, or to have a large soda with your lunch, but these habits could be contributing to rapid tooth decay. The problem with consuming high amounts of sugar is that it attracts more bacteria, which are prime contributors to poor oral health.
Tip #3 – Chew Sugar-Free Gum
Ideally, you should brush and floss your teeth around an hour after you eat a meal. If that isn't possible, a temporary way to remove some of the leftover debris is to chew sugar-free gum. The grinding action helps to increase your natural saliva production, which then helps to bathe your teeth.
Tip #4 – Avoid Tobacco Usage
Whether it is smoked or chewed, tobacco usage can wreak havoc on your oral health. Here are some of the problems it can cause:
Consistently unpleasant breath
Decreased gum tissue and rapid tooth decay
A dryer mouth that is more vulnerable to bacteria growth
The release of toxins that can be detrimental to your oral health
Tip #5 – Visit Your Dentist on a Regular Basis
Not only is it important to enact the above habit changes, but visiting your dentist every six months for checkups is also vital to your oral health in the new year. During each appointment, you'll receive a full examination that will allow your dentist to identify any budding problems before they become worse.
Additionally, your teeth will be professionally cleaned to remove any built-up plaque and tartar that can contribute to tooth decay and gum disease.
So to experience the dental health you desire and also enhance your overall wellness in the new year, reach out to your cosmetic dentist in Coral Springs to schedule a preventive care visit today.
About the Author
Dr. Walter K. Kulick earned his dental degree from the University of Pennsylvania's School of Dental Medicine. Considered to be an expert in the field of dentistry, he has served as a pre-clinical and clinical instructor as well. Dr. Kulick combines his years of experience with a willingness to continue to learn to provide his patients with the best in care at Coral Springs Dentistry, and he can be reached for more information through his website.