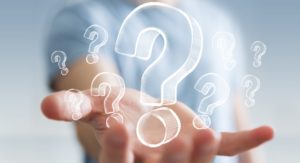 Are you ready to replace your missing teeth permanently? Dental implants are the solution for you; however, they are a big investment. You don't want to trust your smile to just anyone. Here are 5 important questions to ask your dentist to ensure you're making the best choice to replace your pearly whites.
1. Can you perform the entire process in-house?
Not all dentists can perform both your placement surgery and restoration process in-house. You can avoid being referred to another location and additional fees by choosing a dentist that has completed advanced training in dental implants. You'll save time and money with everything you need under one roof.
2. Will I need bone grafting?
It's not uncommon for patients to need bone grafting before getting dental implants, but it isn't always necessary. Your dentist will review a CT scan of your oral structures to ensure your jaw has sufficient density to support implant posts. If you require bone grafting, it's time well-spent to ensure your new smile has the support it needs to thrive. Bone from a donor or another area of your body is grafted onto weak areas to enhance the strength of your jaw.
3. How many dental implants will I need?
A single tooth is replaced using an implant post, an abutment, and a restoration. Each tooth isn't replaced individually if you have consecutive missing teeth. Instead, 1 or 2 dental implants are used to support a dental bridge. If you've lost all your teeth in an arch, 4 to 8 implants are needed to stabilize your denture. Your implant dentist will explain how many you'll need during your consultation.
4. How long do dental implants last?
Dental implants are the most reliable method of treating tooth loss. They have over a 95% success rate and are proven to last for 30 years or more with the right care. You can ensure your new teeth last for a lifetime by brushing, flossing, and visiting your dentist regularly.
5. What are my payment options?
Dental implants are more affordable than you might realize. The process takes many steps, each with separate fees. This gives you more time to pay because you won't have to come up with a lump sum. Although every situation differs, many dental insurance plans can be used to offset the cost of specific aspects of your treatment, like preliminary procedures, imaging, or restorations. You can make monthly payments for any remaining balance using a third-party financing company, like CareCredit.
Use your consultation as a time to ask any questions you might have. You'll have the information you need to feel confident your smile is in good hands.
About Dr. Vibhor Bidkar
Dr. Bidkar earned his dental degree from Boston University Henry M. Goldman School of Dental Medicine and has regularly continued his education in advanced services, like dental implants, oral surgery, and fixed prosthetics. He can perform the entire dental implant process in-house. Request an appointment through our website or call (954) 507-3989.