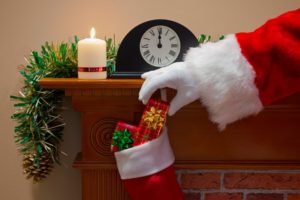 When you were a kid, you couldn't wait to look in your stocking for all the goodies Santa left you. Perhaps you received candy and other sweets, but you know better now. You know that candy is bad for dental and overall health, but you still want Christmas morning to be enjoyable for your loved ones. What can you do if you also want to give them something that could help them stay healthy? This year, you don't have to choose one or the other. You can give both fun and useful gifts at the same time! Check out these stocking stuffers that will leave your loved ones smiling.
Toothbrush
At first glance, getting a toothbrush may not seem exciting, but it doesn't have to be a run-of-the-mill, standard toothbrush. For little ones, having a toothbrush with their favorite character can make brushing that much more enjoyable. This time of year especially, you can find some pretty nice electric toothbrushes for kids as well, which can help them get excited about this daily task. In addition, keep in mind that the toothbrush fun doesn't only apply to kids. Adults can also appreciate a high-quality electric toothbrush in their stockings.
Flavored Dental Care Products
Did you know that dental products come in more flavors than just mint? Especially if your child or loved one isn't a huge fan of this flavor, getting bubblegum- or fruit-flavored toothpaste, floss, and mouthwash in their stocking can be a nice, fun change. Trying these other flavors can also help them stay motivated to maintain their oral health.
When selecting flavored products for stocking stuffers, just be sure the toothpaste or mouthwash contains fluoride, has the American Dental Association seal of approval, and is age appropriate.
Sugar-Free Gum
When you chew on gum, it causes your mouth to salivate, which helps to rinse your mouth of plaque, bits of food, and bacteria. In fact, after meals, it can be very beneficial to chew sugar-free gum, so why not give some to your loved ones? You can choose various flavors that range from fruity sweet to minty.
Smile-Friendly Snacks
Stockings are traditionally stuffed with goodies, but no one said you have to use hard or sticky candy. These sugary treats adhere to teeth and can be difficult to remove. If you want to give candy, you can include chocolate, which is typically easier to clean off teeth. But you could also consider filling your loved ones' stockings with healthier options like nuts, beef jerky, or fresh fruit like apples or oranges.
Before you know it, Santa will have to fill the stockings with care. When you choose smile-friendly presents and goodies, it means that their smiles can last long after Christmas morning.
About the Practice
Kulick Dental Group has been proudly serving the Coral Springs community for many years. With four experienced and skilled providers on staff, we are able to treat patients of all ages and with various needs. In fact, two are general dentists and the others are cosmetic dentist and a periodontal specialist. If you have questions about dental health, or if you need an appointment, you can contact Kulick Dental Group through our website or by calling the office at 954-341-0500.